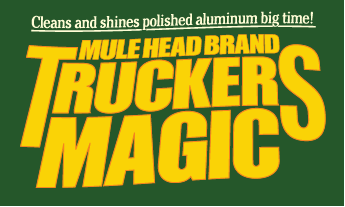 Truckers Magic Polished Aluminum Acid Wash, a hard hitting, ready to use pre-diluted acid solution, removes diesel smoke deposits, road grime, and oxides with one quick and easy application.
Quick and easy cleaning for polished aluminum wheels, tanks, stacks, other stainless truck parts.

Spray Truckers Magic onto pre-wetted surface from the bottom up. Soak from 2 to 3 minutes. Rinse with water. Never allow this product to dry on any surface.
Contact your distributor for details. If you do not have a distributor, contact us.
Caution:
Keep out of reach of children. Contains hydrofluoric and sulfuric acid. Harmful or fatal if swallowed. Avoid contact with eyes, skin or clothing.
Protection:
Eye protection and rubber gloves are recommended.
First Aid:
Flush with water for 15 minutes if eyes or skin are affected.
If swallowed, contact a doctor immediately.
HMIS Ratings:
Health-2; Fire-0; Reactivity-0; Personal Protection Equipment 0