Works on anything that moves, slips, slides, rubs, rolls or pivots.
Premium quality OL' RUSTY penetrating lubricant quickly penetrates, disperses, degreases, and reduces friction to loosen moving or fastened parts frozen by corrosion, wear, and grease or grime buildup. It is a premium penlube with great staying power.
Contact your Mule Head Brand distributor for a free demonstration of OL' Rusty Premium Penetrating Lubricant. When you see it work, you'll have to have it.
Motor shafts
Shop tools
Industrial machinery
Marine equipment
Guns
Chain hoists
Sports equipment
Drills and saws
Electric motors
Vending machines
Hinges and locks
Roller Bearings
Conveyors
Pulleys and sheaves
Clamps and vises
Jacks and winches
Nuts, bolts, and screws
Lifts and more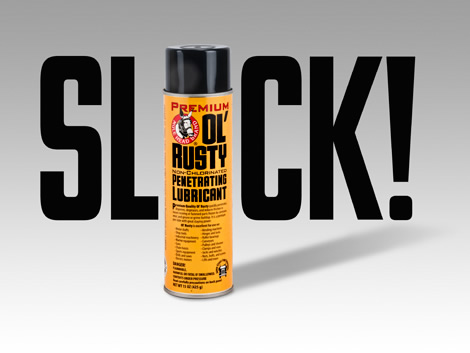 OL' Rusty works great on:
"Works quick and it sure is slick"
Fast penetration • Long lasting
Fights corrosion • Displaces moisture
100% CFC free • VOC compliant in all states