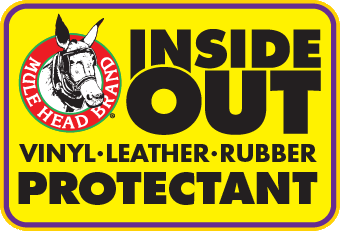 Inside Out is a water based protectant for vinyl, leather and rubber surfaces. Inside Out is the perfect choice for
Interiors

Dashboards

Vinyl upholstery

Leather upholstery

Tires

Mudflaps

Exterior trim

Exterior vinyl or rubber

Inside Out's non-solvent formula smells great as it protects surfaces from ozone, ultraviolet rays and oxidation that cracks, dulls and hardens surfaces.
Perfect for use by Class 8 truck dealers, new and used auto dealers, auto parts stores, car washes, auto and truck leasing companies and public transportation companies.
Contact your Mule Head Brand distributor. If you do not have a distributor, contact us.
Directions:
Shake well before using. Always apply Inside Out to clean surfaces using a hand applicator or spray bottle. Allow product to penetrate surface area, then wipe away any excess. Repeat as needed.
Inside Out is a silicone mixture, do not use in paint and body shops where silicone may interfere with the painting process.
Caution:
Eye protection required. Do not swallow product. If skin is irritated, see a doctor.
Always clean hands with soap and water after using product.
HMIS Rating
Health 0 / Flammability 0
Reactivity 0 / Personal Protection A .